Don't listen to what the crowds are saying...
Who Says You Can't Start Doing Regular, Effective Exercise AND Be a Busy Mum/Wife/Worker/Doer of All Things?
SIGN UP NOW
How Would You Like To Never Have Mummy Guilt Ever Again
When You Want To Workout?
Would you like workouts that are able to be done in your own time and pace at home, so that you never have to worry about finding care for your children in order to exercise?

Would you like new, exciting workouts delivered straight to your inbox each week, so that you can stop wasting precious hours searching YouTube to find that 'perfect' routine?

Do you want to get the body you deserve by following proven routines - ones that don't promise the whole earth and then go on to deliver just a couple of shovelfuls of soil?
Imagine knowing exactly what exercise you need to do each week, that fills you with energy, builds stronger muscles, makes you leaner and therefore, gives you back the confidence of your younger days - that you can continue doing for life...
SIGN UP NOW
But There Is So Much Noise Out There, You Don't Know Where To Start Or Who To Follow When It Comes To Finding An Exercise Routine




That Will Truly Become Part Of Your Lifestyle



One minute, someone is telling you that you need to lift heavy weights and do NO cardio in order to look and feel fantastic.
The next, you're being told to run for an hour to burn off all those calories you ate at lunch! Or that you 'only' need to do 'Just 6 Minutes a Day!' of the latest ab workouts and you'll look like you stepped out of the photo-shoot for a fitness magazine cover.
When all you really want, is to find exercise that can fit into your busy lifestyle, but will give you the energy and body you crave.
And the confidence to be YOU.
You decide to give all these different fads and ideas a go in fits and starts, but nothing seems to hold your attention for long.
Motivation Wains...
And it feels like these 'results' everyone is talking about, are only going to arrive when you figure out how to use photoshop before posting your latest holiday bikini shot on Insta.
THE KIDS GET SICK
And they need you, so you forfeit your workouts for the week. Only that week seems to turn into a fortnight and before you know it, you feel like you've lost all your fitness and it's going to be too hard to start again. So you don't.

THERE ISN'T THE TIME IN THE DAY FOR A DECENT WORKOUT
They say you have to workout continuously for AT LEAST half an hour for it to be of any benefit right? Therefore, if you don't have 30 minutes free, there is no time to exercise.

AND ANYWAY, WHO HAS THE ENERGY WHEN YOU'VE BEEN UP HALF THE NIGHT WITH CHILDREN!?
This feels especially true once you have more than one child and there are more people needing you, hanging off you, wanting to be consoled by only their Mummy.
This was my reality until I changed one thing.
I made myself a priority.
I put myself up a few pegs on the ladder of importance.
And I started to carve out time from my busy day for exercise, so that I could be a better Mum, a better wife - but more importantly, a better version of myself!
And now I'm on a mission to help and show others just like you that it IS possible to to have both - time to work on yourself and time to be with the ones you love the most.
By the time my third child was born, I had 3 children under 3 years old.
Any resemblance of my former self was long gone!
My abs were separated to the point where I could fit my hand in between them. I was left with a 'Mum-Tum' and I would look six months pregnant as soon as I ate processed carbs - which were my go-to.

My thigh muscles had melted away from their prior selves and now resembled legs made of 'soft, cellulitely fat'. Even if I contracted my thighs muscles tight, you could no longer see any muscle shape whatsoever!

And my once-toned arms, had become shapeless so I was self-conscious wearing tank tops.

Endless waking in the night to feed a baby or calm a toddler left me running in the red-light-zone of my internal fuel gauge. My energy was usually at absolute zero and I felt like I was doing everything I could, just to get through the day!
But at the same time, I craved time to be ME again. I wanted to be able to lose some of the extra body fat I was carrying, fit more comfortably into my clothes and I wanted my energy back! Something I hadn't felt since I became pregnant with my first baby.

The thing is, I was trying to find a way to do the workout with three kids at my feet. My husband was at work all day and I needed to be there in the evenings to help with getting them to bed, so there was no time for a run or a workout even when he was home.

That meant I wasn't able to lose some of the extra pounds I was carrying, let alone feel like 'The Real Fiona'.

To make things worse, I felt terrible because I wasn't being the best Mum I knew that I could be, or should be.

I felt even worse about the situation because I was grouchy, exhausted and felt like crap! Which I inevitably, took out on my husband (and likely to an extent, the kids too).

I felt like an absolute failure. I saw photos online and in headlines of everyone else bouncing back and getting their shit together. But I was drowning in nappies, baby vom and endless night wake-ups. And here I was looking like shit too - reflecting on the outside how I felt on the inside...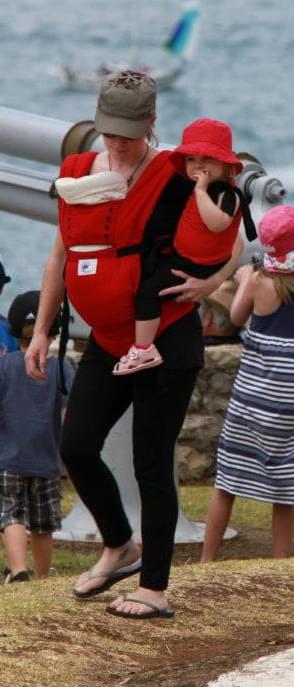 The problem was that my youngest was lip and tongue-tied (which went undiagnosed for so long!) that she screamed and cried all day and all night (or so it felt).

Plus I had 2 toddlers to care for and get up in the night for too.
At one point, I was so beside myself, I felt like throwing my baby against a wall. I find it really hard to admit to and of course, I didn't do it, but I didn't have a way to have an outlet for just me.

Which meant if I didn't start doing something to change myself, I knew my family would break down and fall apart, meaning that I had absolutely failed at being a mother.
Then it dawned on me, my baby-brain lifted for a moment and something amazing happened...
I remembered from my earlier years at Uni, that 'circuits' were an effective way to exercise, as they combine cardio with resistance training and rev up your metabolism, kinda like giving your car the premium gas instead of the cheaper fuel.

AND I could try and do this at home, instead of trying to get to a gym or go for a long run!

It was now crystal clear to me how to get back my body, strength and fitness, because I saw I could now try working out at home with the kids playing close by, even if my husband wasn't there.

I also learned that you get faster results by NOT doing cardio or resistance training in isolation, you need to combine the two together into one powerful workout instead.

As a result, I bought many different sets of dumbbells and barbells, a swiss ball and several other different pieces of equipment.

After I did that, I started setting up my circuits at home and was actually able to do my workout like I had hoped to!

Suddenly, I was learning that I could be a better version me and a better mother and wife. That's when I realized that the secret to finding a way to workout at home, was shorter, but more effective workouts.
My plan was to start helping other Mums and locals in my area, so that they too could reap these rewards.

So I started telling my friends and every other woman I came in contact with at local children's activities and such. But I didn't stop there.

I then set up the circuit classes outside at a local park and invited people to join me.

After that, I kept running the classes for over a year. .
But there was still a problem...
It would take me ages to set the circuits up - putting all the gear and instructions at the right station. I wasted so much time. Then people were getting stronger and I was having to buy and unload more and more heavy equipment. And I and others, were getting bored of the same format - 45 seconds at a station, 15 seconds to change stations. It all just felt too hard and not something I could continue for much longer!
I ended up getting so frustrated that I decided to try something new - using 'functional' resistance training equipment, where everyone would have the same thing as each other, such as a kettlebell, and I could vary the workouts SO MUCH more!

I chose to call my new classes "F.M. Fitness Bootcamp".

I thought if I could create something that would make it possible to have fun, with different style workouts that still got amazing results, but only required a couple of pieces of resistance equipment instead of dozens, I'd be really happy. People would be happier!

After several months of playing around with different pieces of equipment and endless styles of workouts, I started F.M Fitness Bootcamp.

I can now get a better resistance and cardio workout in 45 minutes, 3 days a week, than I ever did when I ran 1 - 1.5 hours a day, 6 days a week, PLUS the hour I would spend lifting weights 4 days a week on top of that!

I then decided to better serve my growing community, by sharing my workouts online. So I started to let other determined women join my newly founded - Backyard Bootcamp.

As a result of all this I was able to achieve the following:

Within the past 8 years, over 500 hundred people have come through the bootcamps – either online or in person and increased their fitness, their health, their bodies and overall, changed their lives - for the better. And all within such an amazingly short space of time compared with anything they had done before.
After creating The Backyard Bootcamp, I was not only able to workout with ease at home with my children playing next to me (no guilt, no leaving the kids out, no feelings of selfishness), I've also been able to stop worrying about how I can keep exercise as part of my busier-than-ever-before lifestyle, because I can now spend such a short time exercising, ticking all the boxes that need to be ticked, and still get the results I've always wanted.

And in the end, all of this means I'm now able to be the absolute best version of myself for my own sanity, for my health and especially for my three young children and my husband. They deserve a mother who now has the energy (both physically and emotionally!) to give them everything they could ever ask for and more!
SIGN UP NOW
Introducing, The Backyard Bootcamp! For People Who Just Want Amazing, Effective Workouts That They Can Do From Anywhere!
Full of the perfect workouts to suit every fitness level and background, The Backyard Bootcamp is your one-stop-shop to fast-track you to a stronger, leaner and toned body in as little as 3 short weeks!
Where no two workouts will ever be the same!
You'll be taught:
How to: safely complete all the exercises
Ways to: change up your workouts so that it suits your level of fitness perfectly
Tools that: will give you the results you are after
Unlike other online fitness programs that promise the world with only bodyweight training, The Backyard Bootcamp gets real results, is the only resistance and cardio you need and is designed specifically for the every-day busy-as-heck woman or man.
Becoming a 'Backyarder' means you will...
Fit comfortably and confidently back into your skinny jeans
Gain back that elusive energy you used to have
Get back the 'real you' that may have been hiding for that last long while...
The Backyard Bootcamp will dramatically reduce any time wasted trying to find the next new fad or 6 week program to try and stick to, jumpstart your fitness and health and quickly help you become the best version of yourself possible!
What you are going to get when you join The Backyard Bootcamp today...

Bodyweight Vault

Where other workouts have you doing only 15 minutes before having to go and find something else if you need it, The Backyard Bootcamp workouts are broken into three 15 minute 'parts'. Each part will 'flow' into the next one, meaning that you're not chopping and changing formats as you go and you will have the perfect 30 or 45 minute session at your fingertips for when you're up to it!
Follow along to just the one video, two or even the third video to create your longer workout!
Kettlebell Vault
Kettlebell workouts to get stuck into so that you can really start to see your body shape change for the better!
The kettlebell workout too, is broken into the three 15 minute parts so that you've always got a huge variety of 15 - 45 minute sessions to choose from depending on what order you do each 'part'.
Follow along to one, two or even the third video to create your longer workout.
Lockdown Vaults!
Inside is the bodyweight and kettlebell lockdown vaults. These were all filmed live during the New Zealand lockdowns.
Just load the video, put your shoes on, grab your drink bottle and you'll be good to go.
Warm ups
It's vital to get your body moving safely to warm up those muscles before you dive into your workout.
Here you can find four super-fun warm ups that will get your blood pumping, as well as some simple ideas for when you are pushed for time.
Deep Core Muscles
It is vital that you learn how to engage your deep core in order to exercise safely and to build a strong body and posture. If you have had children, there is a chance your stomach muscles are separated and doing 'traditional' ab exercises will make this worse - not better.
In this module, learn if you have separation and learn how to effectively engage your core properly.
You will be given different ab exercises to use during the weekly workouts that are safe and you also have a bonus of two core training programs so that you can heal your separation or just build a very strong base to work from!
Static Stretches
After doing your workout, it's really important to stretch your muscles to prevent injury and that next-day soreness.
In this module, I make it super easy to find a quick, static stretch for the area of your body that is in immediate need.
No fluff, no strange yoga poses - just straight to the point!
Muscle Recovery
Lots of trainers don't like to mention it, for fear of putting people off before they start, but it is fact that needs to be addressed.
And that is, unfortunately, working out brings about an unwanted side-effect... sore muscles!
In this module, you can learn all the ways to help lessen the impact of having sore muscles and ways to help when you are experiencing pain.
You will also have recommendations of what products to use or supplement with to aid with that fast recovery.
EXERCISE VAULT
All the exercise demonstrations you will ever need, are inside your vault! Over 100 exercises and counting, will be at your finger tips for quick technique access.Or use the exercises to inspire creating your own workouts by swapping in your favourite ones into the Weekly Workout.
PLUS MORE!!
SIGN UP NOW
"I am a mum of 3 young children and over the past year The Backyard Bootcamp online product has been instrumental in my journey toward reclaiming my health and fitness.

It is extremely flexible, as it is there the minute I'm ready to workout and I don't have to add in travel time.

I love that you can do a quick 15 min workout or challenge yourself by adding multiple parts together when you have more time. The quick links to illustrate the proper methods for doing exercises are invaluable and have allowed me to learn how to do new exercises without injury.

The variety of workout options is also fantastic as sometimes I'm in the mood for a bodyweight workout and others for a kettlebell or slamball workout.

I also have appreciated how Fiona always presents multiple options for different experience levels and challenge levels with her workouts, this includes addressing mum's with abdominal diastasis.

Her wealth of expertise and knowledge are so effectively shared through her Backyard Bootcamp that I have recommended this tool to anyone I know who expresses an interest in exercise and health.

Thank you for your part in making me a healthier person Fiona!"
- Ammie
The Backyard Bootcamp IS for...
You're ready for The Backyard Bootcamp if you are:
Passionate about setting a great example for your children and other important people in your life
Done making excuses about why you don't exercise consistently as part of your lifestyle
Sick of feeling like you have no energy to get through the day
Ready to put yourself up a peg or two on the priority list
Willing to put in some effort a few days per week to get the results you are looking for
The Backyard Bootcamp IS NOT for...
You're not ready for 'The Yard' if:
Deep down you think you don't really need to put in any physical effort to get the body you want
You are skeptical that this is the only cardio and resistance training you need
You are impatient to drop 20lbs and need it gone by next Tuesday
The Backyard Bootcamp Will Give You Everything You Need To Start Changing Your Body, Your Fitness And Your Life. It Gives You The Road-map & The Tools For MASSIVE Success, For Less Than A Cup Of Coffee Per Week!

My 30 Day Money Back Guarantee
If "The Backyard Bootcamp" doesn't show me exactly how to exercise to lose body fat and get muscle tone... if it doesn't take me by the hand, step-by-step to deliver results in a short time... or if it fails to help me gain more body confidence, then I understand that I will receive a full refund - No Questions Asked!
As you can see, all the risk is on my shoulders
Because I Want To See You Succeed
It doesn't matter whether you've been trying to achieve your dreams for years or are a total newbie. The Backyard Bootcamp will meet you where you are at. You'll skip past all the mistakes and obstacles that stop MOST from finding an exercise that will work as part of their lifestyle and go right to living your best life. You'll know exactly how to get in the perfect workout for how you're feeling on any given day, which means knowing that you never have to search for that 'one thing' ever again.

And it won't just be me supporting you — you'll be part of an awesome secret community of like-minded Backyarders!
See you in The Yard!

- Fi Modderman
SIGN UP NOW

P.S. - Every minute you wait, is another minute of you being stuck in a body that you're not 100% happy with. Get started today and learn how you can turn shifting pounds until you're in your dream body, as part of a lifestyle, not just another crash fitness course.
"Thanks so much for the Backyard Bootcamp Fi! I am into week 3 of adding in some kettlebell workouts and am finding it easier to do up those dreaded pre-pregnancy jeans. It's easy to find 15 mins to do a workout and usually find that I get amped to continue on to 30 or 45 mins! Thanks for removing a lot of my mental and physical barriers!!!"
- Steph
Here's A Recap Of
EVERYTHING You'll Get
When You Purchase This AMAZING Offer!
New Weekly Bodyweight Workout ($97 Value)
New Weekly Kettlebell Workout ($97 Value)
New Weekly Slamball Workout ($97 Value)
Video Workouts ($49 Value)
Deep Core Muscles ($49 Value)
Muscle Recovery ($19 Value)
Exercise Vault ($29 Value)
Total Value: $437
But you're getting all of this...
For Only $149
Get in The Yard Now!
SIGN UP NOW